Welding equipment manufacturer OTC「FD series」Welding Robot Industrial Automation is a good helper
2015-07-21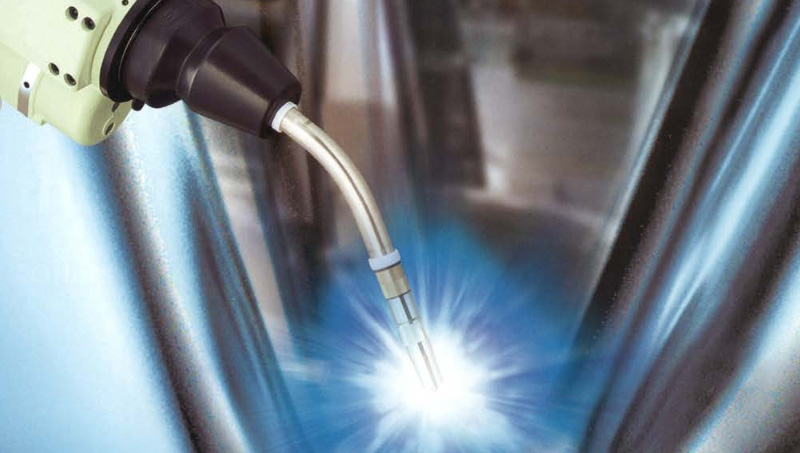 2012/3/1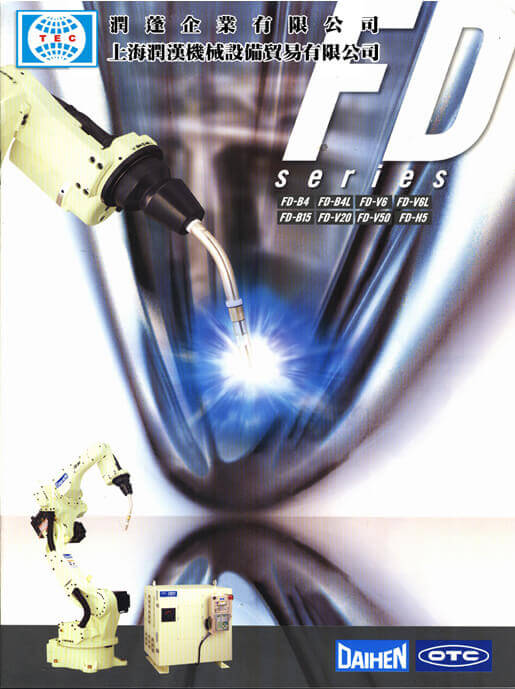 Japan's largest welding equipment manufacturer of OTC in November 2011 in Japan Tokyo robots on display, FD series welding robots, fast and accurate flexible and complete industrial automation solutions with high efficiency and high performance.

Distributor Japan OTC series of robots and welding machines Triadtech Enterprise Co., LTD, General Manager of Zhuang Zhenghui said, new welding ROBOT OTC published four models for the FD-V6 (standard), FD-B4 (cable built standard type), FD-V6L (lengthened), FD- B4L (cable built lengthened). The new robot additional a number of new teaching features and can click input directly on the teaching screen (TOUCH PANEL), another new low-slag welding machine WELBEE: this type WB-M350L has a small current (200A or less), low-slag welding machine functions and improved welding machine radiating and dust-proof design.
New models not only action performance evolution, With the touch panel and the slide adjustment controlle interoperability upgrade, that is we pursue the new simple ROBOT & Control Box「FD series」. The industry's first and exclusive development welding IC (Welbee chip), new generations are equipped with welding power source 「Welbee inverter WB-M350L」,its high performance & High quality (low welding slag).

WB-M350L:Welding controller LSI !
Super low special welding slag welding machine, High-speed stability and performance! Cooling Performance & Dust-resistant performance significantly up!

PLUSE、DP400R、Pulse MAG/MIG、CO2/MAG welding quality high usage and power supply stability, reducing spatter generation, beautiful weld bead appearance. The new arc length allows to improve arc stability, can be achieved reducing small welding slag, soft arc welding and new Pulse waveform. Triadtech Enterprise Co., LTD published latest development FD series welding robots in the 2012 TaiSPO Taipei Int'l Sporting Goods Show.

The General Manager Zhang Zhenghui said, Japan OTC, Daihen Corporation, was established in 1919 and by now has ninety years of history. It is the biggest and most professional arc Welding / Cutting equipment and ROBOT manufacturer. Currently on the market for industrial applications of robotics divided into Japan, European and domestic. Japanese in major OTC, Panasonic, Yaskawa, FANUC, Fujio, Kawasaki and other company's products. European lines are mainly German KUKA, CLOOS, Sweden, ABB, Italy and Austria IGM COMAU Company, according to the properties of the different needs of industry strengths. The General Manager Zhang Zhenghui said, automated welding equipment and welding machines currently differences on the market traditional

Automated welding equipment to stabilize and improve weld quality and ensure its homogeneity. Welding parameters such as welding current, voltage, welding speed and welding stem extension length of the welding results decisive. Welding quality less affected by human factors, reducing the requirement for workers to operate technology, the welding quality is stable. And when manual welding, welding speed and quality are all subject to change, it is difficult to achieve uniformity of quality, improve labor productivity. Robots do not fatigue, can be 24 hours a day of continuous production, in addition to high speed and efficiency with the application of welding technology, the use of robotic welding, production efficiency is more obvious, product cycle clear, easy to control product yield. Robot is adjustable fixed yielding, so arrange production plan is very clear! Can be reduce to shorten new product development cycles, reduce investment corresponding equipment. Achieve mass production of welding automation.The biggest difference between the robot and the traditional welding machine is that he can modify the program to suit the different parts of the production.

China is the worlds of largest manufacturing plants, it has gradually transformed into the largest consumer market, the quality requirements and consumption of goods are also increasing. Continental continues to hike wages, salary growth is the trend. Want to rely on cheap labor production time continent has also been in the past, recently Taiwan also to the wishes of increased dramatically enhance automation equipment, productivity in the production process Increase efficiency and automation equipment, is the current trend. Only increased automation equipment to streamline labor, increase productivity, and improve the quality of the mode of operation in order to meet current market demand and economic effectiveness. New OTC ROBOT 「FD series」can fast and precise and flexible, more efficient and high-performance rendering complete industrial automation solutions to meet market demand throughout the Greater China region.